CORY PELCHAT – REALTOR®
GRASSROOTS REALTY GROUP LTD.
|

GRANDE PRAIRIE
Your Perfect Home In Grande Prairie Awaits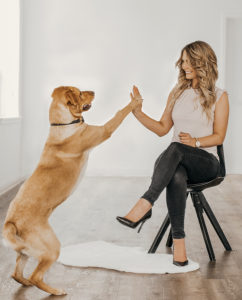 Meet The Team
There is no better team that can help guide you through the often complicated process of buying or selling a home than Cory, her assistant Allie and her sidekick Bonnie. With over a decade of real estate experience, Cory knows what it takes to get the deal done in a competitive Grande Prairie market.
Licensed in all areas of real estate in Alberta, clients turn to Cory for her extensive expertise. Her fun, approachable personality will keep you at ease throughout the entire process!
Learn More About Us
Cory was absolutely the best possible realtor we could've hoped for. As first time buyers she was there to help the whole process any hour or any new question we may have had. We really appreciated her wisdom and experience as well. Would absolutely use Cory again and would recommend her to anyone.

Cory and her crew do such an amazing job. It is always a pleasure working with her. She is fun to work with, is super knowledgeable and is willing to work around your schedule. We would highly recommend!

I purchased my house 4 years ago with Cory, and when my life circumstances changed, I used her service again to sell my house. Her incredible team came in and helped stage my house and take amazing photos and videos for advertising! It was on the market for only a day before Cory told me there was offers and helped me get the best price for my place. It was a super fast sale thanks to her and her fantastic team! It was a hectic time for me, but having a great relator who communicates and supports you makes all the difference. She really goes above and beyond for her clients and I'll gladly recommend her! Thanks again, Cory!

It has been a pleasure to work with Cory. My other half and I met cory in December and gave her the listing to our house. Not only did she sell our house she also helped me and my family find our dream house. She closed both deals in a very professional and timely manner guiding us along the way with everything from banks to inspectors and lawyers. We were a pain to deal with seeing almost every house in Grande Prairie and yet we were greeted every time with a big smile. We would recommend Cory to everyone including our closest family and friends. Great job Cory we love our house!

We are so grateful for the patient, professional, knowledgeable service Cory has given us since we met her a few years ago! She has graciously shown us whatever we wanted to see, even when we weren't quite sure what we were looking for! We are now the happy owners of an investment property and couldn't have done it with out Cory's help! She went over and above our expectations! Thanks Cory! Can't wait for the next one!